Grattis till A-kullen på 4-årsdagen 101206! / Congratulations to the A-litter on the 4th birthday 12/06/2010
---

Grattis Gunnel och Liza (Bumble-Bee) som 101121 tävlade i Hkl spår på Kristianstads BK och trots väder och vind lyckades få ett godkänt resultat!
Congratulations Gunnel and Liza (Bumble-Bee) who competed in higher class tracking with a pass!

Ellenor och Mia (Bea) för godkänt exteriörbeskrivning till Korning / Ellenor and Mia (Bea) for passing the exteriortest
---

Grattis Clara till B-höfter! / Congratulations to Clara for B-hips!
---

Grattis Eva och Clara – klubbmästare i agility 2010 på Lunds BK / Clubmasters in agility 2010
---

Hipp hipp hurra BESSY och Lena & Roland!
Lördagen den 18 sept: Danska kennelklubben, Ballerup: CERT, BIR och Köpenhamnsvinnare
Lördagen den 25 sept: Klubbmästare Lomma BK i Lydnad
Saturday the 18th of September: Danish kennelclub, Ballerup: CAC, BOB and Copenhagenwinner
Saturday the 25th of September: Clubmasater obedience Lomma BK
---

TACK till alla som kom och deltog i vårt MT och MH den 31/7 – Alla bilder från dagen hittas här!
Thank you all that attended our Mentaltest (MT) and Mental Behavior Dog (MH) the 31st of July
---

Vi gratulerar Eva och Clara till uppflytting i rallylydnad / Eva and Clara up in rally obedience
---

Tifa och Ingrid tog en pinne i Hoppklass 2 i Bjuv 100710 / Tifa and Ingrid got a moving up point in Jumpclass 2 07/10/2010
---

Amika blir BIR på Circuitutställningen i Danmark i samband med Världsutställningen 2010. BIM till höger är Yirr-ma Bashyr of the Two Chestnuts
Amika becomes BOB at the Circuitshow in Denmark. BOS to the right is Yirr-ma Bashyr of the Two Chestnuts
---

Bessy och Cånny har fått sina röntgenresultat – B-höfter och UA armbågar!
Bessy and Cånny has got B-hips and clear elbows!
---

Bumble-Bee (Liza) slår till för tredje gången på 14 dagar – Cert, BIR och BIS-R vid utställningen på Burlövs BK 100529. Liza är alltså numera Svensk Utställningschampion = SEUCH
Bumble-Bee (Liza) takes her last CAC, becomes BOB and BIS-R at the show 05/29/2010. Liza is now Swedish Conformationchampion = SEUCH

Bagheera, Bessy och Bumble-Bee (Liza) erhöll GK exteriörbeskrivning för korning, Burlövs BK 100529
Bagheera, Bessy and Bumble-Bee (Liza) got approved Exterior examination 05/29/2010

Axa och Lotta tog en pinne i agility Hoppklass 1, Söderåsens BK 100530 – wow, vilket lopp!
Axa and Lotta got a moving up pin in agility jumpclass 105/30/2010 – wow, what a race!
---

Bumble-Bee (Liza) slår till igen – Cert, CACIB och BIM vid SKK INT Hässleholm 100522
Bumble-Bee (Liza) strikes again – CAC, CACIB and BOS at the SKK show 05/22/2010
---

Bumble-Bee (Liza) tog CERTET på SVEKKs rasspecial i Markaryd 100515 – Penny, Amika och Clara fick CK
Bumble-Bee (Liza) got the CAC at the SVEKK speciality 05/15/2010 – Penny, Amika and Clara got CK
---

Amika tog sin tredje pinne i agility kl 1 på Lunds BK  100508 och blev därmed uppflyttad till kl 2. De blev även 3:e placerade av 67 startande
Amika has now moved up to Agilityclass II 05/08/2010
---

Stort grattis till Årets vinnare av Agility-DM i lagklass – Svedalaskoj! Lotta och Axa deltog tillsammans med kompisarna Ingrid och Annsofi med deras hundar Ronja, Isa och Bianca
Congratulations to this year's winner of Agility district championship for teams – Svedalaskoj! Lotta and Axa competed with their friends Ingrid and Annsofi with the dogs Ronja, Isa and Bianca
---

Grattis Gunnel och Liza som blev uppflyttade till högreklass spår med 517,5 p och kom 2:a på Olofströms BK 100424
Congratulations Gunnel and Liza for moving up to higher class tracking 04/24/2010
---
Danmark, KHKG, Köge 2010-04-11, Penny BIR och BIS-3 veteran, Amika clubcertifikat
Denmark, KHKG, Köge 04/11/2010, Penny BOB and BIS-3 veteran, Amika clubcertificate
---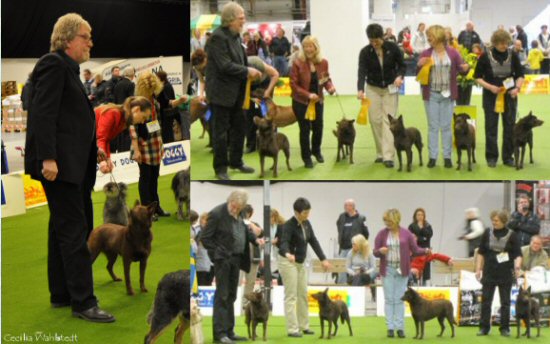 Vilken dag på SKK Malmö INT 100321!
Amika blev BIR med CACIB
Pennys avelsgrupp fick 1:a + HP och placerades som 3:e bästa grupp av alla söndagens avelsgrupper
Uppfödargruppen fick 1:a + HP
Bessy fick en 1:a ökl och kom 1:a ökk
Clara fick 1:a junkl och kom 1:a junkk med HP
Cnut fick denna gång en 2:a junkl
What a showday at SKK Malmö INT 03/21/2010!
Amika became BOB with CACIB
Pennys progenygroup got a 1st prize + HP and were placed as 3rd group among all progenygroups that day
The breedersgroup got a 1st prize + HP
Bessy got a 1st prize in openclass and were places 1st
Clara got a 1st prize in juniorclass and were placed 1st + HP
Cnut got a 2nd prize in juniorclass this time

Grattis Bagheera till certet på NKK utställningen i Bø, Telemark i Norge 100221
Congratulations Bagheera for the CAC at the NKK show in Bø, Norway 02/21/2010
---
---